Alternative Cooking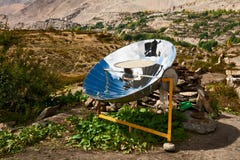 This is something every family should be concerned about if they intend to endure the hard times. The photo on your left is a solar cooker in the Himalayas. Suppose the dollar collapses, and that is what many of us Americans are concerned about. How do we intend to feed our families without the use of electricity? We will be forced to be innovative and creative when enduring hardship.
Alternative methods of cooking can really be fun, especially for camping or power outages. We hope you enjoy the posts along with the well done how to videos that are offered in this segment.
Please leave a comment or if you want to add your own stories and experiences we would love to have you share them in the comment section and published for everyone to experience.
Thanks for the interest in Alternative Cooking!
DYI Solar Cooker
Alternative Cooking

,